English Week 5ABST
5AT-5B-5S, November 2019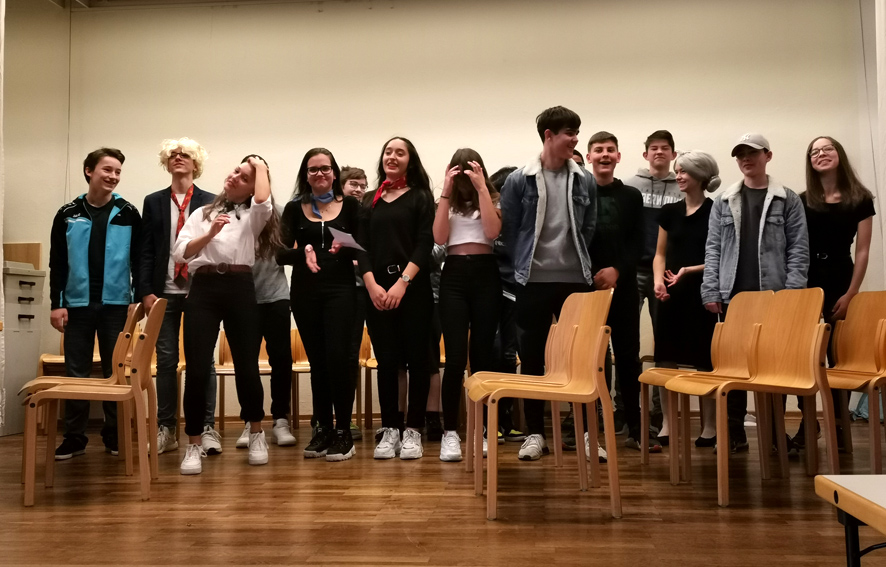 It was English Week again at Georg von Peuerbach!
The Welshman Ralph and his team, this time accompanied by John, Bentley and Meghan visited us again this year to further develop the language skills of our fifth-graders.
You can imagine that humor and fun were welcome visitors if being trained by teachers who are also actors, comedians, singers, and dancers. However, the students did not only benefit on the humoristic level, but they also improved their language skills in different contexts, such as banking, job interviews and law/court, added new words to their active vocabulary and became more eloquent speakers of the English language. All of the tasks and activities were student-centered and successfully accomplished by them.
The end and climax of this very active and speaking-intensive week was the performance of the sketches at Volkshaus Ferdinand Markl.
In the name of all students I would like to thank Ralph, John, Bentley and Meghan for coming to Georg von Peuerbach. It was a pleasure to have you here! We hopefully see you again next year!
Here are some impressions of the stagecraft of our students.