Reisen
Cambridge 7CT
7CT, Oktober 2019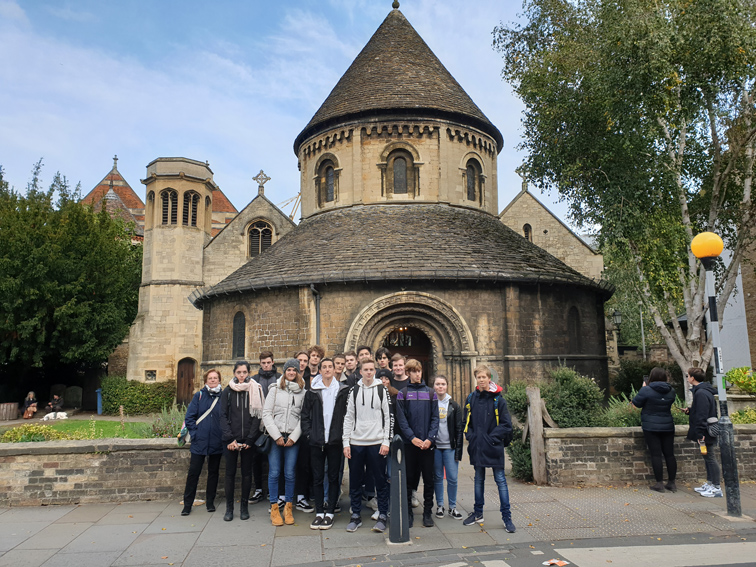 On Monday October the 7th our class flew from Salzburg to London Stansted. From there a bus took us to Cambridge. Tom, our guide from the language school showed us the most important sights of Cambridge. Afterwards taxis took us to our host families.
Our school in Cambridge was located at 13, Station Road and our lessons started at 9 o'clock. The lessons were quite amusing, relaxing and we actually learned a few things. Dan, our English teacher, was very nice and funny and also taught us a lot about English idioms and their origins in various playful ways.
After our first day of school we had a little break to eat our sandwiches. Then we visited the "Fitzwilliam Museum" in the centre of Cambridge and we got some questions to answer about exhibits which are presented in the museum.
In the evening we met in front of the football stadium of Cambridge United and watched the match Cambridge against Northampton. Unfortunately, Cambridge lost the game 1:0, but it was a great and especially funny experience. On Wednesday we went to the Select English School like the day before. After our lesson had finished, we went punting on the river Cam. We were allowed to punt on the river on our own and it was great fun. After one hour of exhausted punting we were happy to get some food at our homestays.
In the evening went to the ADC-Theatre to watch a play by Shakespeare. It was hard to understand but with the help of the gestures of the actors most of the things were clear. Afterwards we went home by bus. On Thursday we went to Ely, which is a very idyllic village near Cambridge. We had a look at Ely Cathedral, which is called "Church of the Holy and Undivided Trinity" and which was built about 900 years ago. We were all watching in amazement as we saw the over 60m high cathedral for the first time.
When we went into the church a woman told us that the harvest festival was on that day and the local farmers had placed a red tractor in the cathedral. A few years ago they even brought sheep into the church to express the gratitude for the harvest.
After the cathedral we went to the house of Oliver Cromwell, who was "Lord Protector" of England and lived in Ely for 10 years. In front of his house we took a few pictures and then we walked to the train station to go back to Cambridge.
On Friday we went bowling and it was great fun. In the afternoon we attended church in the King's College Chapel where the choir of King's College performed the Evensong.
On Saturday we went to London by train. As we were strolling through London for almost five hours, we saw the most important sights like Tower Bridge, Big Ben with scaffolding around, the London Eye and many more. After the sightseeing tour we were allowed to go shopping in Oxford Street. Even though it was raining heavily we enjoyed the tour and had a lot of fun.
On Sunday we went to London by train again. Like on Saturday it was very foggy and partly raining. We visited many different markets and got some impressions of the cultural differences between Austria and England. In addition, we had different possibilities to go shopping. Each of us enjoyed this daytrip.
On Monday morning we had to get up at about 3 a.m. since the taxis waited for us at 3.15 a.m.. After the transfer to Stansted Airport we had enough time for breakfast. At 7.25 a.m. our plane took off for Salzburg. As most of us were asleep during the flight we had another breakfast at Salzburg train station. Finally we could pay in Euros again. When we arrived in Linz our parents collected us.