Cambridge 7B
7B, 3. bis 10. Oktober 2017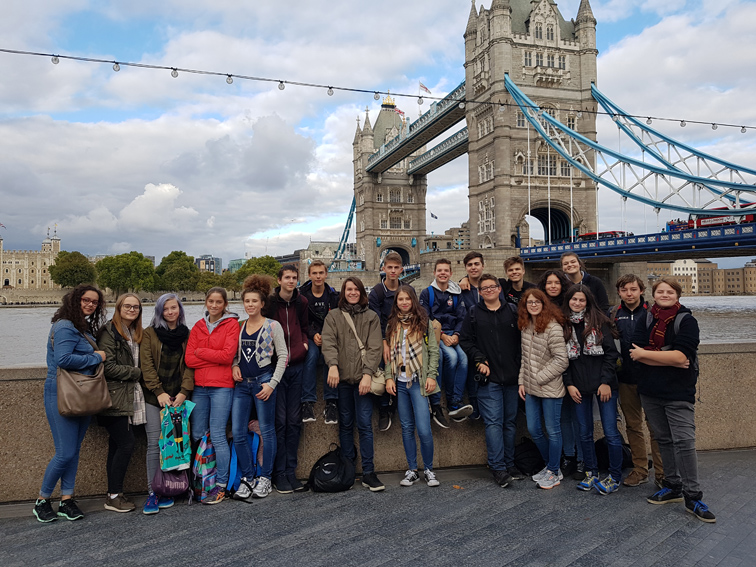 At first we want to thank our group leader professor Gerhild Tulzer and our teacher Ulrike Paulat who made this whole trip possible. Our two English guides Tom and Alex have also contributed a lot so that our stay has become unforgettable for us.
Tuesday
After a two hours' flight to London Stansted and a taxi ride of 45 minutes we arrived at our school in Cambridge. There we met our two young guides named Tom and Alex who showed us around the city during the next two hours. We got information about a lot of landmarks like the Cambridge War Memorial, the Corpus Clock, which has no hands or numerals, and the very impressive and famous universities like King's College, Darwin College or Trinity College. At the end of this exhausting but marvellous day we finally got to know our guest families....
Wednesday
After three English lessons and a quick lunch at school we made a tour at Jesus College in the afternoon.
Thursday
We visited the Fitzwilliam Museum which displays a great variety of different collections. The special exhibition presented some of the world famous paintings by Edgar Degas. In the evening we went to the ADC Theatre to watch 'A Midsummer Night's Dream' by William Shakespeare. We really enjoyed the play but sometimes it was difficult to understand some words or some scenes because the actors used the English language that was spoken during the time when Shakespeare wrote the play.
Friday
The lessons were very interesting and we really liked the presentations that we sometimes had to do. That day we visited The Polar Museum. But our main goal was to get to the river Cam to go punting. Some of us struggled at the beginning but as time went by the punters got better and better. We had to admit that this activity was the best one we did so far. We had so much fun together and the pictures we took were incredible. In the evening we decided to go bowling. As it was Friday evening we only got to play for one round. So we played some games at the gaming hall before going home to our host families.
Saturday
We took the morning train to London. First on the agenda was a tour of some famous sites with our guide Tom. We saw the Houses of Parliament, Westminster Abbey and Buckingham Palace just to name a few. Tom left us at Oxford Street, which is long street littered with shops left and right. We had some time to stroll around and have a look in some of the shops. In the afternoon we went to Covent Garden market where we could watch several street artists and stroll around stalls before we returned back to Cambridge.
Sunday
London again! First we went to a really crowded but impressive flower market. Brick Lane, a long street with flea markets along each side was our next destination. Finally we reached an indoor food market where we could get our lunch. We kept on walking and went to one final more posh market close to Liverpool Street. From there we took a bus to the Tower of London. We walked across Tower Bridge and then continued along the Thames for a while until we reached the Shard. From the viewing platform of this skyscraper we could see the whole of London, which was absolutely impressive and beautiful.
Monday
Today was our last day of school and everybody was sad because we would fly back to Austria the following day. After an awesome lunch we went to the Leisure Park to see the film 'Victoria and Abdul'. The movie tells about the friendship between Queen Victoria and a young Indian clerk named Abdul Karim. When this touching movie ended everybody was free to enjoy their last evening in Cambridge. Some went to have dinner in the city, others went home to have dinner with their host families. Later that evening we had to pack our suitcases for the following day.
Tuesday
We left Cambridge at 6am in order to catch our plane to Linz. Back in Austria our families were already waiting for us.