Reisen
Malta 7B
7B, 30. September - 7. Oktober 2016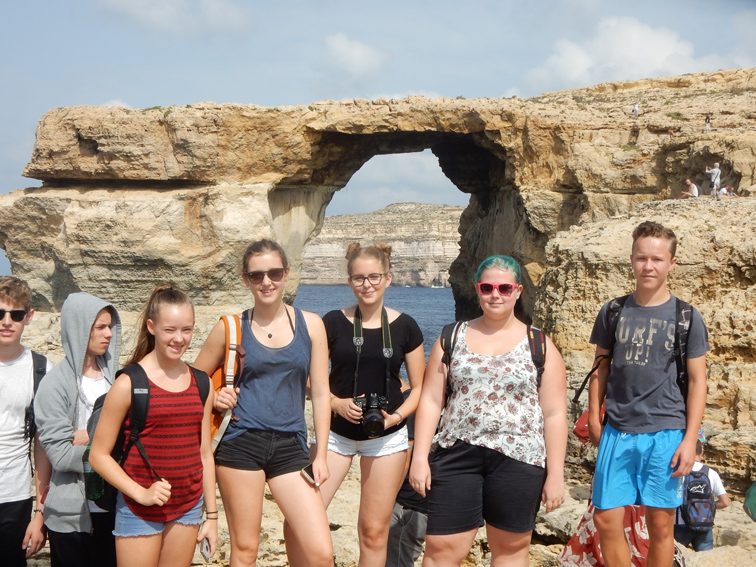 From the 30th of September to the 7th of October our class flew to Malta. After our arrival at the Malta International Airport we were taken to our host families. Fortunately they welcomed us in a kind way and showed us the surroundings. In the evening we met our teachers Mrs and Mr Höller to discuss the programme of the next days. Afterwards we were allowed to explore the nightlife of Paceville.
The next day we travelled around Gozo, which is the neighbouring island of Malta. There we spent time in the capital city Victoria. Furthermore we visited Xlendi and the Azure Window which is a natural limestone arch. At the end of the day we were swimming at Ramla Bay. As an adventurous highlight we went back to Malta by speedboat.
On the third day we got to know a megalithic temple complex called Hagar Qim, the old capital Mdina and the Blue Grotto. Moreover we went shopping to a very famous fish market in Marsaxlokk. Subsequently we took a swim and made breathtaking jumps at a rocky beach.
Monday was pretty tiring because we had English lessons all day.
On the following days we also had to go to school but luckily only 4 lessons each day.
On Wednesday we visited the Rotunda of Mosta which is a church renowned for its humungous dome, which is the 4th largest in the world. The church is famous for its past because in World War II a German bomb pierced the stunning dome but failed to explode.
Before we went for a swim at the marvellous Golden Bay we also visited Popeye Village, which is a small village that was built as a film set for the production of the film Popeye.
On our last day of stay we came to see Valletta which is the fascinating capital of Malta.
Generally we enjoyed the trip very much because of the nice weather, the beautiful sea, the new experience and the extraordinary culture.