Reisen
Schottland 7A
7A, 2.-10. Oktober 2015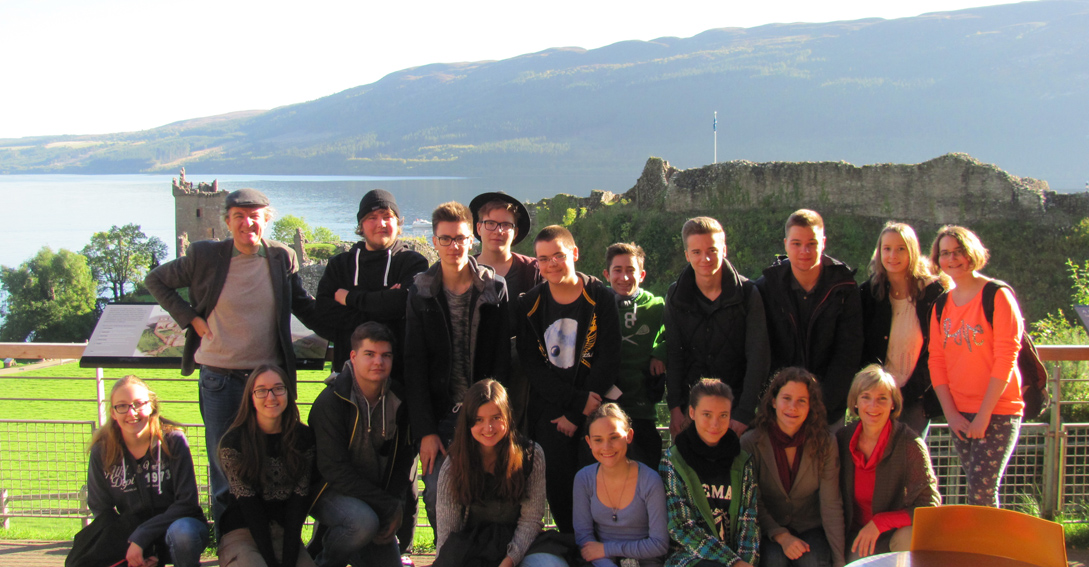 Our project week in Scotland
1. Our Highland-Tour …
… was truly amazing / great / really nice / gave us a great overview of the North of Scotland …
… took us two days, felt like a week and will last for a life-time.
The landscape was beautiful and our guide and our whole group was really motivated.
2. Edinburgh …
… was old and cosy and I felt really safe.
… is really old and I always had the feeling that I was back in the 19th century.
… is a truly astonishing place with a terrible system of public transport. The whole city feels like a small town crammed with narrow old buildings and shops while at the same time it is a huge city just like any other capital.
… looks great but if you look carefully it is poor and run-down.
It was a bit difficult to find our way around but I fell in love with this city.
3. The Mackenzie School (the staff, the course, the facilities …)
… was great
They were very committed and they wanted us to be happy. The lessons were great and really interesting, especially because of the role-plays we did.
They truly cared about us and our well-being.
Ross rocks! He was great! (He taught us how to play rugby :))
The activities were exciting and fun. The lessons were adorable and now I can't stand normal every-day school-life any more …
The facilities were very nice and offered fun activities (table tennis, pool, TV screen to watch rugby …)
4. Did you know that …?
(some interesting, amazing, astonishing or fun facts)
… Edinburgh has about 500 000 inhabitants and that many houses are or look very old? (some from the 16th century)
… the Scottish kings sat on a stone called the "Stone of Destiny"?
… James II died when his own cannon exploded?
… some Scots also have French citizenship because in the past Scotland and France had an alliance against England?
… it is actually pretty easy to get lost on the bus in Edinburgh?
… rugby is almost as popular as football in Scotland?
… there is touch rugby involving both genders and I played it?
… a warm fall is called Indian summer?
… the Scots are very, very, very proud of their country but decided to stay in the UK?
… a kilt is called "kilt" and not skirt because the last man who said "skirt" was killed? (best joke on the Highland Tour)
5. My favourite part was …
walking into the city centre of Edinburgh and being completely overwhelmed by all the beauty and emotions; rugby, the Highland Tour with Steve and his jokes and wonderful untouched nature, free time in Edinburgh, free time activities, the people, playing table tennis and pool (now we know each other better), travelling by bus, the youth hostels, shopping in Edinbrrra, the dungeon (because the staff told us about the bloody history of Scotland in a trilling and funny way), visiting Edinburgh castle, walk on Arthur's Seat, EVERYTHING!
6. Our week in one sentence …
It was incredible, wonderful, astonishing, just perfect and one of the best experiences I have made up to now.
It was a great, green, beautiful, cool and awesome week and I will never forget it.
We made a lot of experiences, had fun, spent time together as a class and also learnt many new things.
It was a great green and historic time with awesome people from Mackenzie School.
It was a really cool week with my friends.
Our week in Scotland was a trip that all of us will remember for a long time.
It was an awesome week that will be in our minds forever.
It was an unforgettable week full of awesome activities.
I enjoyed the trip so much.
I would not have missed it for the world.